Data Collected from Over 8,000 People in Eight Weeks
Center for Global Surgical Studies - by
- March 07, 2017
On Friday, March 3rd, 2017, Center for Global Surgical Studies' (CGSS) trainees Sabrinah Ariane Christie, MD, Drusia Dickson, and the Community Based Survey on Injury team completed their data collection efforts in Southwest Cameroon. The data collection efforts--which spanned a period of eight weeks--yielded data on over 8,000 people living in the region.
One of the aims of this CGSS study is to estimate the yearly incidence of injury in the Southwest region of Cameroon with an emphasis on understanding patterns of injury and care-seeking behavior among households with injured persons who do not present to formal care. Preliminary analyses of the data are underway.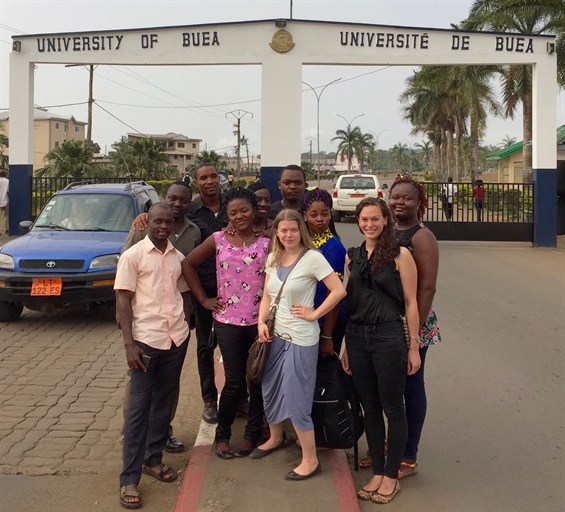 Pictured above is the Community Based Survey on Injury team posing in front of the University of Buea gate on the last morning of data collection. The team includes S. Ariane Christie, MD (UCSF Surgical Resident), Drusia Dickson (UCSF Medical Student), and University of Buea medical students Ahmed Fonje, Emerson Wepngong, Eunice Oben, Frida Nganje, Kareen Azemafac, Susan Mbeboh, William Chendjou, and Agbor Mbiarkai.
CGSS is proud of Dr. Christie, Ms. Dickson, and the entire Community Based Survey on Injury team for their successful data collection efforts.