Our Mission
To understand the fundamental mechanisms of maternal-fetal biology in order to develop innovative fetal therapies for genetic diseases and pregnancy complications.
To create a collaborative interdisciplinary research environment to train the next generation of scientists/physicians.
Our Vision
To translate discoveries in biology and technology into prenatal therapies that will transform medical care for expectant families.
Our Research
Stem Cell Transplantation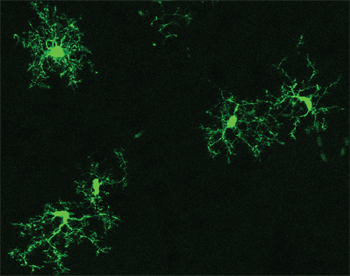 Our lab studies in utero hematopoietic stem cell transplantation (IUHCT) with the goal of elucidating mechanisms of engraftment and tolerance induction. Transplantation of allogeneic stem cells into the early gestational fetus can overcome the limitations of postnatal bone marrow transplants, including rejection and graft vs host disease. We showed in a mouse model that maternal T cells are the main barrier to engraftment,1 suggesting that IUHCT could be improved by transplanting maternal stem cells. We found that tolerance induction after IUHCT depends on both direct and indirect antigen presentation2 and is secondary to thymic deletion. In a mouse model, we improved engraftment with in utero depletion of fetal hematopoietic stem cells (by injecting an antibody against the cKit receptor) to increase the HSC niche for donor cell engraftment, with minimal toxicity.3 Most recently, we demonstrated that IUHCT can result in engraftment of donor-derived microglia in the brain, which has important implications for the treatment of lysosomal storage disorders.4
Following these advances in the mouse model, we opened a Phase I clinical trial for IUHCT in patients with alpha thalassemia major (NCT02986698). Fetuses diagnosed with alpha thalassemia major receive hematopoietic stem cells that have been harvested from the mother, concomitantly with a blood transfusion to treat the fetal anemia. The hope is to induce tolerance to the maternal cells to allow the mother to be a viable donor for stem cell transplantation to treat the baby after birth. To date, two patients have completed the trial, both of whom safely received IUHCT and are now thriving toddlers!
Maternal-Fetal Tolerance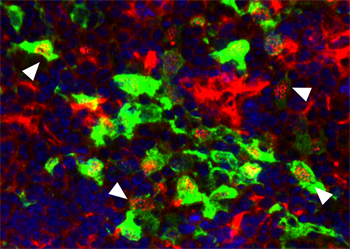 Our lab studies mechanisms of maternal-fetal tolerance with the goal of improving fetal intervention outcomes and preventing immune-mediated complications of pregnancy. During gestation, the fetus exists in a unique state of immune tolerance with the mother; we now understand that tolerance in both directions (maternal tolerance of the fetus5 and vice versa) is important for a healthy pregnancy. We have shown that in the context of preterm labor, the fetal immune system can be activated against maternal antigens, which triggers a cascade of events culminating in preterm uterine contractions.6 We are now trying to understand changes in the microbiome7 and other antigens involved in this aberrant immune response so that we can develop targeted therapies for preterm birth. We are also fascinated by the role of congenital anomalies such as gastroschisis8,9 in altering fetal immune development, with possible consequences on preterm birth and postnatal health.
Our lab is also investigating the role of autoimmune regulator gene (Aire) in supporting maternal-fetal tolerance. Aire prevents autoimmunity by inducing tolerance to self-antigens. A healthy pregnancy requires tolerance to a unique set of maternal self-antigens: those arising from the decidua, placenta, and embryo. We are investigating whether maternal self-tolerance to pregnancy-associated antigens protects a pregnancy and how the Aire gene may be involved. This work is relevant to common pregnancy complications such as miscarriage and intrauterine growth restriction, both of which are often associated with autoimmunity.
Fetal Molecular Therapies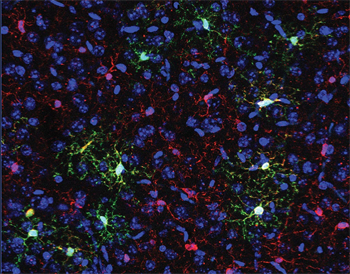 Advances in molecular therapies such as gene therapy and gene editing have led to postnatal clinical trials aiming to treat congenital genetic diseases such as hemoglobinopathies, coagulopathies, neuromuscular degenerative diseases, and lysosomal storage disorders. Our team and collaborators are working toward applications of these therapies in the prenatal setting to treat fetuses with genetic diseases.10
The fetal environment offers multiple potential advantages over postnatal treatment for some congenital genetic diseases. First, the unique fetal immune environment may allow us to induce tolerance to a missing protein such as a clotting factor or a lysosomal enzyme. Second, it may be possible for systemically injected medication to reach cells in the fetal brain before the blood-brain barrier closes. Finally, fetal therapy may prevent organ-specific disease manifestations during a critical window of tissue development. A goal of the MacKenzie lab is to develop safe and effective fetal molecular therapies in translational animal models and to lead the way in developing responsible fetal molecular therapy clinical trials to treat patients with severe genetic diseases before birth.
Contact
We are always looking for bright and motivated scientists to join our team. Contact us at tippi.mackenzie@ucsf.edu if you would like to be considered for a position! 
Videos
References
Current Lab Members
Tippi MacKenzie, M.D.

Professor, Department of Surgery
Director of Research, Fetal Treatment Center
Co-Director, Center for Maternal-Fetal Precision Medicine

Tippi MacKenzie is a pediatric and fetal surgeon who is focused on developing better ways to diagnose and treat genetic diseases before birth. She leads a translational research lab examining the unique biology between the mother and her fetus, with the idea that pregnancy complications such as preterm labor arise from a breakdown in maternal-fetal tolerance. She is the Principal Investigator on the first Phase I clinical trial to perform in utero hematopoietic stem cell transplantation to treat fetuses with alpha thalassemia major. Her research has been supported by the National Institutes of Health, the March of Dimes, the California Institute for Regeneration Medicine, and the Burroughs-Wellcome Fund. Tippi was awarded the Jacobson Award by the American College of Surgeons for her innovative work. 

Tippi trained in classical piano at Juilliard before obtaining her undergraduate degree from Harvard College and her medical degree from Stanford University. She completed her surgical residency at Brigham and Women's Hospital in Boston and additional fellowships in Fetal Surgery and Pediatric Surgery at the Children's Hospital of Philadelphia. Tippi joined the Department of Surgery at UCSF in 2007 and is now a Professor of Surgery and a member of the Eli and Edythe Broad Institute for Regeneration Medicine and the Bakar ImmunoX program. She recently co-founded the Center for Maternal-Fetal Precision Medicine with the aim of accelerating the processes that link basic research to clinical trials to improve maternal, fetal, and neonatal health. She is an enthusiastic supporter of the performing arts and a strong believer in empowering girls and women in science through mentoring. 

Maria Clarke, B.S.

Staff Research Associate

Originally from Seal Beach, California, Maria attended UC Davis and received a B.S. in Neurobiology, Physiology and Behavior in 2019. As an undergraduate, she studied the molecular biology and genetics of retinal degeneration. in the lab of Ala Moshiri. After graduating from UC Davis, she joined the MacKenzie Lab to pursue her interest in developmental biology and regenerative medicine. Outside the lab, Maria spends time running, hiking, and exploring San Francisco.

Eva Gillis-Buck, M.D.

General Surgery Resident

Eva is originally from Pittsburgh, PA, where she spent summers in Vera Donnenberg's cancer biology lab as a high school volunteer. She received an A.B. in Developmental Biology and Gender Studies from Harvard University, where she worked in Jeff Macklis's lab investigating mouse cortical neuron development. She also received an M.Phil. in the History and Philosophy of Science from the University of Cambridge. Eva joined the MacKenzie Lab in 2017 as a UCSF medical student and HHMI Medical Fellow, investigating maternal-fetal tolerance and a role for Autoimmune Regulator gene (Aire) in mouse and human pregnancy. She continues this work as a general surgery resident at UCSF.

Marisa Schwab, M.D.

Post-doctoral fellow

Marisa is a general surgery resident at UCSF with a strong interest in pediatric and fetal surgery and is currently in her dedicated research years. She grew up in Switzerland before attending Occidental College for her undergraduate studies and Georgetown University for medical school. Marisa works on an array of basic science, clinical, and regulatory projects that share the common goal of developing fetal molecular therapies for patients with congenital diseases. In her free time, Marisa enjoys running, high intensity interval training, hiking, and traveling.

Shirley Shao, B.S.

Medical Student

Shirley is a medical student at UCSF (entering class of 2019). She grew up in the Bay Area and attended college at UC Berkeley, where she majored in Molecular and Cell Biology and Chinese literature. Shirley became interested in developing molecular tools as an undergraduate while studying off-target CRISPR-Cas9 editing in the Corn Lab. After graduation, she spent a year in industry working with software engineers to produce biological datasets to train machine learning models. 

Renan Sper, D.V.M., Ph.D.

Post-doctoral Fellow

Renan was born in Sao Sebastiao, Brazil. He attended Veterinary College at the Federal University of Uberlandia, Brazil, where he developed an interest in immunology and animal reproduction.  After graduation, Renan moved to the United States to complete a clinical internship/residency training in animal internal medicine and reproduction at the College of Veterinary Medicine, North Carolina State University (NCSU). After clinical training, he earned a Ph.D. in Molecular Cell Biology at NCSU, developing transgenic pigs via CRISPR-Cas9 technology for regenerative biomedical research and extending his research interest to regenerative and translational medicine. Renan joined the MacKenzie Lab in 2018, where he works on developing new fetal molecular therapies for congenital genetic diseases.

Jasmine Valencia, B.A.

Staff Research Associate

Jasmine is a Staff Research Associate in the MacKenzie Lab. She grew up in San Diego, watching her dad play zombie video games like Resident Evil, which sparked her interest in the human immune system and infectious diseases. She attended the University of California, Berkeley where she investigated the influence of TLR7 on induced regulatory T cells in the Barton Lab. In 2019, she received her B.A. in Molecular and Cellular Biology, with an emphasis of Immunology. She plans to attend graduate school in the near future. In her free time, Jasmine enjoys cooking, hiking, and going on photo walks.
Former Lab Members
Marta Wegorzewska, graduate student
Ninnia Lescano, staff research associate
Chris Derdarian, post-doctoral fellow
Shivika Trivedi, medical student
Catherine Tsai, medical student
Greg Emmanuel, medical student
Erin Jarvis, staff research associate
Eisha Zaid, medical student
Amar Nijagal, post-doctoral fellow
Tom Le

, staff research associate

Geoanna Bautista, graduate student
Andrew Tucker, staff research associate

Michela Frascoli, post-doctoral fellow
Mirijam Lohuis, graduate student
Shannon Fleck, graduate student
Giovanna Bautista, medical student
Russell Witt, post-doctoral fellow
Wais Moradi, staff research associate
Emily Kreger, post-doctoral fellow
Carlo Eikani, staff research associate
Bowen Wang, staff research associate
Sally Mokhtari, post-doctoral fellow
Esther Smeets, post-doctoral fellow
Cerine Jeanty, post-doctoral fellow
Quoc-Hung "Key" Nguyen, post-doctoral fellow
Charmin King, graduate student
Linda Nguyen, staff research associate
Chris Baker, staff research associate
Grace Schwartz, staff research associate